About Mappa.Mundi Magazine
Mappa.Mundi Magazine was orginally created by Carl Malamud, Rebecca Hargrave, and Martin Lucas when they were with Invisible Worlds, then a fledging startup. The purpose of the magazine was to provide a forum for the discussion of visualization, mapping, and other broad concepts that were of interest to the web development community. In addition to general interest articles, the magazine included a regular set of features devoted to the Blocks technology the company was creating. Invisible Worlds went through several rounds of financing, grew considerably,the founders moved on to new ventures, and the last official issue of the magazine was published in May 2000.
Malamud and Hargrave went on to found media.org and decided that one of the important roles the media.org cooperative could play was to rescue some of our prior work. As a result of this mission, Mappa.Mundi Magazine has been restored to the Internet in an archival state following a six month hiatus. Initially, the newly-rescued site will be updated with occasional post-archival additions. However, it will continue to evolve in the spirit the original creators intended, and will be used as a platform to support causes that we believe in.
About Mappa Mundi and Our Logo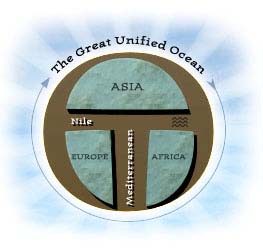 Before maps, scholarly monks drafted mappa mundi, representations not just of geographical knowledge but also of the realms of spirit, of myth, and of imagination. Imperial Rome, then the center of power and influence, was placed at the center point of the most ancient of the surviving mappa mundi. Later, as medieval society turned to faith and away from empire building, this shift in beliefs was reflected in mappa mundi as the Holy City of Jerusalem replaced Rome as cartographic ground zero. Mappa mundi created a visual metaphor placing mankind into context in the physical world, and simultaneously in other virtual worlds.
Medieval Christian monks drew diagrams of the world as it was known to them, in the stylized t-o mappa mundi; literally "sheet of the world." East was at the top, west at the bottom. Four bodies of water surround the world's three great landmasses. Creating an encircling "o" is the ocean sea, and forming a "t" or cross on the map face are the three major inland waterways, the rivers Don and Nile and the Mediterranean sea. Correctly, Asia forms the largest, most easterly cell at the top. Europe appears on the lower left and Africa is the lower right cell.
The T-O mappa mundi say as much about the monks' committment to spiritual harmony on earth as about their disinterest in the often disorderly details of physical geography. We preserve their form in our logo; but the three continents are replaced with the fundamental elements of cyberspace: red, green and blue.
Copyright © 1999, 2000 media.org.