All Over The Map

by Carl Malamud
Go behind the barricades of the information revolution for an eclectic look at notable people, trends, and ideas.

» More...
Trip-M

by Marty Lucas
Journey to the center of social, political and economic issues of interest to the technology community.

» More...
Web Informant

by David Strom
Current trends and events of interest to Web-based marketers and publishers.

» More...
Reviews

Occasional reviews look at thought-provoking work in literature, film, music, and other arts.

» More...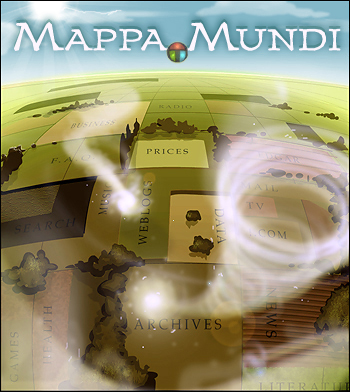 Mappa.Mundi Magazine


Mappa.Mundi examines information discovery on the Internet via an eclectic mix of ideas about technology, history, and the future of cyberspace.


Open Source

theinfo.org is a brand new community focused on the creation and visualization of large data sets. Help build this potentially valuable resource by participating in the mailing lists and the wiki.

ESPG v2.0 is designed to support detailed annotation ("footnotes") of objects (such as artwork or photos), including citations, dimensions, latitude/longitude and other identification metadata.

Map of the Month

by Martin Dodge
A look at the geography of cyberspace and how researchers help define our perception of virtual spaces.

» More...
Locus

by Stephanie Faul
A series about words that describe places and how these words have shaped and been shaped by language, culture and society through the ages.

» More...